x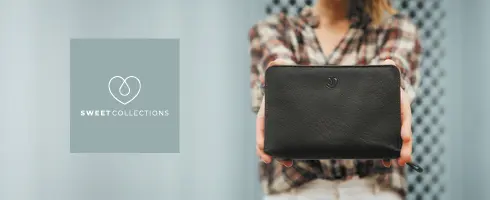 Welcome to the Sweet Collections family.

Start living the sweet life? Sign up for our newsletter now and you will be the first to know about our new collections. We will also surprise you regularly with exclusive offers and interesting discounts. Sign up today and receive a 10% discount on your next purchase!
PRIVACY STATEMENT
All data provided by H.J. De Rooy are collected, will be kept confidential and will not be disclosed to third parties. The information you provide to H.J. De Rooy will be treated with the utmost care. The purpose of registering personal data by H.J. De Rooy is mapping the activities, problems and topics that play a role between consumers and web shops, as well as the possibility of supplying editorial and commercial information to our visitors. The site contains links to other sites and sites of business partners that are not part of H.J. De Rooy. We are not responsible for the privacy practices or the content of such sites. H.J. In response to a request, De Rooy will remove every registered visitor (and his or her personal data) from the database. If you have any questions about this privacy statement, the site of H.J. De Rooy or your experiences with the site, please contact H.J. De Rooy via sales@de-rooy.nl.
To measure the business use of our website, we use the Leadinfo service from Rotterdam. This service shows us company names and addresses based on IP addresses of our visitors. The IP address is not recorded.


Cookies

The website of H.J. De Rooy places cookies. Cookies are small text files that are placed on a PC, tablet or cell phone by an internet page. These cookies are used to make the H.J. De Rooy website function better and to monitor web traffic so that H.J. De Rooy can check how many people have visited the website in a given period. H.J. De Rooy only uses this data in an aggregated form and cannot trace it back to a PC or individual.

Google Analytics is a web analysis service provided by Google Inc. These cookies give H.J. De Rooy insight into its website traffic. Think of visitor numbers, popular pages and topics. This way H.J. De Rooy can better tune its communication to the needs of the website visitors. H.J. De Rooy cannot see who (which PC) visits its website. Google, as provider of the service, can.

Social Media. If you are logged into Facebook, Facebook can place cookies on your PC via H.J. De Rooy that are necessary for liking posts and updating your status.